Explore our commericial Playground Equipment
During childhood, making time for outdoor play is about more than having fun - it's about exploring the world, stretching growing muscles, and using imagination in new ways. Children need unstructured play in order to grow and develop into happy, healthy, well-adjusted people. That's why, at Superior Recreational Products, we offer quality commercial playground equipment that gives children of all ages and abilities safe and fun environments.
Our outdoor play equipment can be customized with the style and colors you want to make your ideal playground. From the steel posts and plastic components to activity panels, we offer a wide variety of color options. We will assist you with every step of the design process in order to ensure your steel playground structure best suits your needs. We can help with the selection of site amenities so you can customize the look and layout of your play space.
Click here to Browse the Online Catalog. To receive a Catalog by mail, please fill out our Contact Form.
Find a Grant for Playgrounds
Next, find a grant that specializes in providing money for playgrounds. There are a number of charitable organizations that focus their efforts on helping communities build playgrounds for their kids. Check out our Playgrounds Grant and Stimulus Guide to start your search.
Often these grants will be matching grants, so you will want to plan some fundraisers as well. The more money your group can raise, the more money you will get from the grant. The organizations that offer grants for playgrounds want to see that there is a community backing their money that will make use of the playground and work to take care of it.
https://srpplayground.com/grant-and-stimulus-resources
Other Superior Products: Shade, Shelter, and Site Amenities.
Dynamo is the world leader in innovative playground equipment. Our stunning designs and masterful engineering ensure that every piece we build inspires the imagination of children everywhere.
Our primary mission is the creation of the safest, most durable and most fun playground equipment in the world.
Dynamo stands apart from the rest, because Play Matters to us.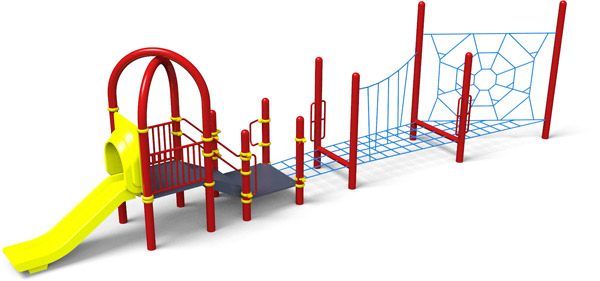 Play Attraction
Our exciting Dynamo games will appeal to children of all ages, from pre-school to teens,
and crowds of them. You won't believe how many kids will come when you open your new Dynamo inspired playground!
Play Retention
Getting the children to stay outside and play is never a problem with our active and inclusive game designs. More fun than a virtual world, they will stay engaged for hours. Your only problem may be getting them home for supper.
Play Return
Kids can be fickle, but we guarantee children will want to go back and play on our Dynamo playgrounds again and again. Buyers of our playground equipment will always receive fantastic value for their investment.
Nature Play
Create your own fun in the depths of the jungle with all of your friends while
playing on unique nature climbers. All of your adventures begin in a playground with your friends! The ideas are endless! Stone Ruins, Nature Logs, Tree Vines, etc!


Browse the full Catalog at
Childforms® was founded on the principle, that by offering quality products at fair prices, with excellent customer service, we could set ourselves apart within the playground industry. Our FunPlay™ modular play structures are available with both 3.5″ and 5″ posts and represent unparalleled value within modular play structures.
Complete your playground with FunTimbers, the perfect solution for interlocking playground borders and ADA Ramps!
Childforms is now offering 4 of our most popular playground structures as "QUICK SHIP" Structures. Quick Ship in the Playground industry can mean as quick as 2 days or as long as 4 weeks depending on the project. Click Here to view Quick Ship Items.
UltraPlay playground products are designed to be easy, self-installed play systems that are affordable, compliant, and quick-shipping solutions for early childhood education centers, churches, apartment and multi-family housing, or any space where residential equipment is not appropriate.


Our playground products meet commercial ASTM performance standards and CPSC guidelines for equipment safety and quality of materials.
Whether you are looking for product for children aged 6 months to 23 months, 2 - 5 years, or 5-12 years, we have the perfect solution for you!
Browse the full Catalog at
Freenotes Harmony Park is the industry leader in outdoor musical instruments. Invented by Grammy Award-Winning musician Richard Cooke more than 20 years ago these innovatively designed instruments are durable, sustainable, and perfectly tuned sound sculptures that enhance any outdoor space.
We offer 19 unique instruments and 5 ensemble packages to fit our customer's needs both acoustically and aesthetically. Our ensembles are wonderful collections of instruments that harmonically enhance group play and foster a sense of belonging. Playing music together creates respect, deep listening and builds community.